DOCUMENT CAMERA, AVerMEDIA
MODELOS DISPONIBLES: CP150 y CP300 NUEVOS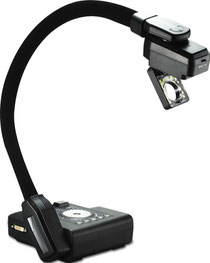 DATOS DEL FABRICANTE:
The CP150 offers a range of features to enhance presentations, including a powerful zoom and built in led lighting. The quick acting manual focus means that you can select a part of interest, not the camera, giving you total control of your presentation. 
The CP150 can be used with most interactive whiteboards, via a data projector, laptop or PC. In addition, it can be used with a plasma / LCD panel for stunning results! The CP150 is very easy to fold up and carry, making it ideal for multi-site applications. It is supplied with licence-free software which includes options for annotation, recording and playback of video and still images. The unit can also be controlled remotely via an infra-red remote controller.
PRECIO:  LLAMAR PARA COTIZAR
VER VIDEO A CONTINUACION